The times for the European Kosen sangha are in the CET time zone (UTC+1). But wherever you are, you can connect to it, taking care to adjust the time to your time zone. For the Latin America Kosen sangha times, here they are.
Paused event.
(Eg. holidays or summer camp)
Activity
The monks and nuns of the Kosen sangha offer you the following activities related to the practice of Zen.
The purpose of this site is to give you the possibility to practice Zazen regularly, with the Kosen sangha, at a distance  via Zoom.
(Schedule: see table of Latin American Kosen sangha)
ShiatZoom : the power of your hands within you. In these times of "distancing", I offer you a space to get closer to your body, a time to reduce your stress level. Awakening body awareness, paying attention to accumulated tensions and finding ways to release them, increasing the well-being through contact with oneself.
(Not in use at the moment)
Yoga is a practice with the body that will allow you to rediscover health and well-being through simple, accessible, and millenary postures, thanks to the use of supports. IYENGAR yoga transmits dynamism in the practice, and the necessary precision to find physical and mental balance. It is a personalized teaching that allows you to progress according to your possibilities.
We carry on with the samu in line sewing the kesa and the rakusu. This activity set up last year has been a great success, not only with beginners who started to sew a rakusu, but also with the nuns and monks who were able to complete their 7 and 9 bands kesa. So welcome if you wish to join us for this marvellous Gyoji: the samu of zen sewing.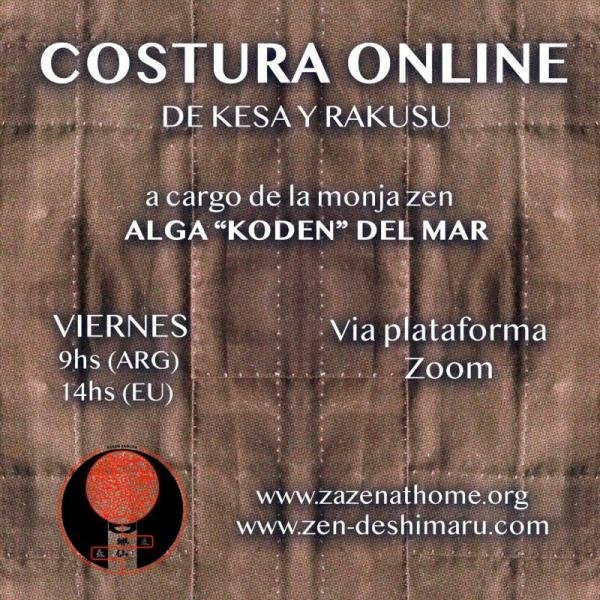 News
Zazoom day+night, wed. Dec 29, directed by the nun Paula Reikiku Femenias, zazen schedule:
-France (UTC+1) 8:00, 11:30, 16:30, 20:00, 22:30, 00:30
-Argentine: (UTC-3) 4:00, 7:30, 12:30, 16:00, 18:30, 8:30
During the winter vacations the virtual dojo Europe closes after Sunday December 19th and reopens on Tuesday January 4th.